Outline
History
Organization
Map

Friction Welding Machine

Sakae's Friction Welding Machine
WF100S-2000 / WF120S-3000

The standard specifications of Friction Welding Machine

The samples of combination of materials


The Friction Welding Movie

The control systems of Friction Welding Machine

The samples of components
The Shot Blast Machine/The Shot Peening Machine
Tire Friction Energy Test Machine
Torsion Test Machine

Sub-contact Products

List of machine and equipment
The photograph of products

Top page

When reaching its limits for cost reduction, contact us.
Our automatic friction welding machines will solve your problem in cost reduction.
The friction welding is a simply and high productivity welding method.
Two Work-pieces, one side is rotated and other side is fixed with clamp, use friction heating at the contact of two work-pieces with pressure and makes friction welding.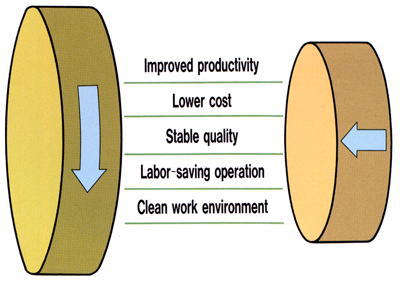 A welding method for today's needs
Friction welding is an innovative type of welding that doesn't generate chips. Since it can help lower manufacturing cost, friction welding is ideal for companies fighting for survival in today's demanding economic conditions.
Advantages of Sakae's Friction Welding Machines

Highly rigid, tough machines that draw on Sakae's wealth of experience in machine tool manufacturing



High-precision friction welding of processed workpieces



Basic design enables easy combination with labor-saving or automated equipment.



Widespread use of the latest electronics technology.



Extensive lineup of special accessories enables selection of optimum processing methods (such as automatic loading & un-loading, delivery or QC) for a wide variety of products.
to page top